Kasturba Gandhi, the larger than life shadow of Mahatma Gandhi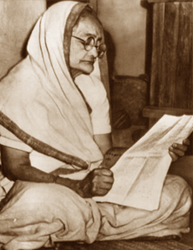 Mohan Das Karamchand Gandhi's evolution from a lawyer, to becoming the face of India's non-violent struggle for independence as the Mahatma has been written about at great length. In this journey of a man who is regarded as the father of the nation, an integral companion was his wife, Kasturba Gandhi.

Kasturba Gandhi's name is often lost in the face of Gandhi's leadership but she was his pillar of support, the first individual who was a part of him like none other. If he could convince her to give up her notions of caste and untouchability, he could convince others of the same. She was perhaps the only person who could disagree with him and point out to him his mistakes. She was his companion, his wife, his caretaker and later in life his representative too.


READ FULL ARTICLE