'Jan Satyagraha' ends with land right victory for marchers
'Jan Satyagraha' ends with land right victory for marchers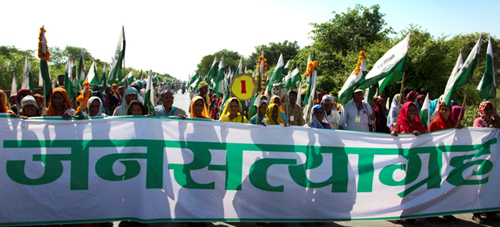 Thousands of landless farmers called off their Jan Satyagraha protest march to the national capital on October 11, after Rural Development Minister Jairam Ramesh agreed to their demand for framing a national land reforms policy.
Ramesh signed an agreement with Jan Satyagraha leader P V Rajagopal in Agra, saying the government was committed to addressing the issues of the landless poor in the country.
About 50,000 poor farmers had set out their 320-km march on October 2 from Gwalior in Madhya Pradesh, which was to reach Delhi by month-end.
"If we are unable to present a draft of the policy, then Rajagopal has every right to restart his agitation," Ramesh said, while addressing thousands of landless poor in Agra. The government is "committed" to bringing the draft of the policy within the time frame, he said.
Added Rajagopal: "If nothing happens in six months, we will assemble here in Agra and march to Delhi."
---
Mumbai Sarvodaya Mandal - Gandhi Book Centre – Gandhi Research Foundation
299 Tardeo Road, Nana Chowk Mumbai 400 007 MH India
Tel. +91-22-2387 2061 / Email: 
info@mkgandhi.org
 Web: 
www.mkgandhi.org