How Mahatma Gandhi Changed Lives of 10,000 Prisoners
in Mumbai Central Jail in the Last 12 Years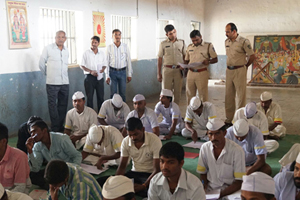 'Hate the sin, love the sinner,' said Mahatma Gandhi. It is in line with this belief that one organization in Maharashtra is trying to reform jail inmates by conducting Gandhi Peace Exams based on Gandhian philosophy.

Laxman Gole, a resident of Mumbai, was convicted for a number of crimes in 2005 and sent to the Mumbai Central Prison for four years. He had studied till Class 7 before getting involved with a gang of nine operating in different areas of Mumbai - mostly extorting money from people. One day, after spending some time in prison, he decided to write a letter to the judge presiding over his case and confessed to all his crimes - accepting his mistakes and promising not to repeat them in the future. His behaviour was so good and his confession so sincere that his sentence was reduced to two and a half years.
READ FULL NEWS