President Patil unveils new statue of Mahatma Gandhi in South Africa
http://www.ndtv.com/article/india/president-patil-unveils-new-statu...
NDTV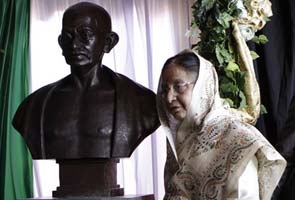 Johannesburg: President Pratibha Patil unveiled a new statue of Indian peace activist Mahatma Gandhi at a former Johannesburg prison on Thursday, during her six-day state visit to South Africa.
Ms Patil was joined by Indian and South African dignitaries at Constitution Hill, the site of an apartheid-era prison where Gandhi was incarcerated.
The statue, a bronze bust of Gandhi, was donated by the Indian government.
Gandhi was christened Mohandas Karamchand Gandhi, but was given the name "Mahatma" meaning "Great Soul" in Hindi.
As Gandhi's statue was unveiled, Ms Patil laid rose petals at its base.
She said that India owed a debt of gratitude to South Africa for "giving us the Mahatma."
Gandhi arrived in South Africa in 1893 and stayed until 1915.
During that time, he was imprisoned many times for his fights against the apartheid regime.
His great-granddaughter, Ashish Gandhi, who lives in South Africa, said the statue would remind people of Gandhi's influence in the country.
"I think that the message and the values, principles that Gandhi stood for should actually continue and be reinforced all the time, because those messages are true for today," she said.
The Indian president arrived in South Africa on Wednesday. President Patil's visit will take her from Johannesburg to Cape Town and Durban, where there is a sizeable Indian community.