'Had Gandhi been alive today, he would have been ashamed'
http://www.rediff.com/news/report/had-he-been-alive-today-gandhi-wo...
rediff.com Sun, 04 Mar 2012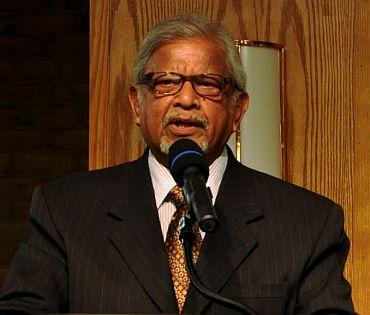 By George Joseph
Arun Gandhi, grandson of Mahatma Gandhi and president of the New York-based Gandhi Worldwide Education Institute, has said that the Gujarat riots of 2002 were the worst in living memory and that the savagery displayed was something he had not expected from fellow Gujaratis.
"It is a day of shame for all who believe in humanity and the oneness of human beings," he told rediff.com.
"It is an example of politics without principles and the concept that to gain and retain power one can do anything. I think had my grandfather been alive today he would be ashamed of calling himself a Gujarati. In fact, I think he would be ashamed of being identified as an Indian," he said.
When asked about the perception that the immediate cause of the assassination of Gandhi ji was his adamant demand that India [ Images ] should pay Rs 30 crore to Pakistan, he said: "Gandhi was assassinated not because of the payment of Pakistan's share of the cash assets. That was just a convenient excuse. He was killed because he openly spoke against the caste system and wanted to abolish it the way it is practiced today. Nathuram Godse had made at least four attempts on Gandhi ji's life from 1935 when there was no talk of partition or division of assets but that was when Gandhi ji first made a strong statement against the caste system."
"In fact there is reason to believe that the Congress leaders and bureaucrats were aware of the attempt to assassinate Gandhi ji but chose to turn a blind eye because a martyred Gandhi was much better than a living Gandhi. Weeks before his assassination, Gandhi ji told a western journalist in response to the question: Do you think India will follow non-violence? Gandhi ji said: 'The Indians will follow me in life, worship me in death but not make my cause their cause'. These were prophetic words that have proved to be true."
"The Congress party, and the politicians in general in India today, successfully removed the British imperialists and became the Indian imperialists. The pomp, pageantry, the lavish life and the gulf that divides them from the common man were things that a living Gandhi would never have allowed. That is what they were afraid of and decided to allow the assassination to succeed."
"Religion, the way we practice it today, has no place in politics because nations are becoming increasingly multi-religious. Also our understanding of religion has become narrow and intolerant. Instead of teaching us love, understanding and respect religion is teaching us to hate and to compete with each other."
"Mahatma Gandhi was a proud Hindu, but his understanding of Hinduism was inclusive and accepting. He did not believe in the practice of meaningless rituals but in learning and understanding the essence of the scriptures and making them a part of one's life. It was this attitude that allowed him to respect all religions as much as he loved and respected his own. To him secularism did not mean denying your own religion but in accepting and respecting all religions."
"To Gandhi, religion was like climbing a mountain. If we are all going to reach the same peak why should it matter to anyone which side of the mountain we choose to climb up from? He used the famous story from Hindu mythology to explain to us children about religion. The story relates to the six visually challenged people who had never seen an elephant yet were asked to describe the animal by feeling it. Each was feeling a different part of the elephant. Consequently the one who was feeling the legs said it looks like a huge pole, the one who felt the body said it feels like a huge wall and so on. Each of them had a very narrow and limited perspective of the elephant, yet they were not altogether wrong, nor were they absolutely right. This is where each of the modern religions are at present."
"Each has a small part of the truth and since no one is making an attempt to learn about the others, each religion holds on to a small part of the truth leading to misinterpretations and exploitation. The more civilized we become the more we are stuck in the mire of ignorance."