India: Arbitrary re-arrest of Ms. Irom Sharmila Chanu
from: http://www.omct.org/human-rights-defenders/urgent-interventions/ind...
IND 003 / 0814 / OBS 072
Arbitrary re-arrest /
Police harassment
India
August 27, 2014

The Observatory for the Protection of Human Rights Defenders, a joint programme of the World Organisation Against Torture (OMCT) and the International Federation for Human Rights (FIDH), requests your urgent intervention in the following situation in India.
 
Description of the situation:

The Observatory has been informed by reliable sources about the arbitrary re-arrest of Ms. Irom Sharmila Chanu, a human rights defender who has been on hunger strike since November 2, 2000, in protest against the Armed Forces Special Powers Act (AFSPA) that has engendered many acts of police violence in the State of Manipur.

According to the information received, at around 10:24 a.m. on August 22, 2014, Ms. Irom Sharmila Chanu was re-arrested by armed police personnel from the Imphal East Police station, while continuing her hunger strike after having been released from jail on August 20, 2014 by a judgement of the District and Sessions Judge of Imphal East dated August 19, 2014.

On August 22, Ms. Sharmila was conducting a peaceful hunger strike for the repeal of the AFSPA of 1958 along with other activists. The hunger strike was being staged at a place which was just half a kilometre away from the hospital where she was kept as a prisoner for 14 years. During her arrest, Ms. Sharmila was violently dragged from the fast site by a team led by the Superintendent of Police (SP) of Imphal East. In the action by the police personnel, they injured and broke Ms. Sharmila's right big toe nail and her clothes were ripped off from her body as she protested the police actions. There was no arrest memo served on her, and the police provided no specific reason for the arbitrary detention.

The Observatory recalls that Ms. Sharmila is physically frail and fragile as she has been on hunger strike since November 2000. According to reliable information, the police have taken Ms. Sharmila to the Jawaharlal Nehru Institute of Medical Sciences (JNIMS) Hospital in Porompat, Imphal East, where she has been given some medical attention for her injuries and then admitted in the special ward under police custody.

The Observatory denounces the ongoing arbitrary detention of Ms. Irom Sharmila Chanu, which seems aimed at sanctioning her human rights activities, in particular her peaceful protest against the AFSPA, and fears for her physical and psychological integrity. The Observatory therefore urges the Indian authorities to put an end to her ongoing detention.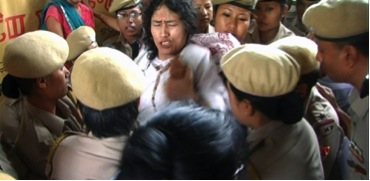 Background information
 
Ms. Irom Sharmila Chanu began her hunger strike after the "Malon massacre" of November 2, 2000, in which members of the Assam Rifles shot down ten suspected insurgents at a bus stop near Imphal, in Manipur, India. This event illustrates the abuses generated by the AFSPA, which entered into force in 1958 and gives the Indian army full powers in areas affected by armed uprising, notably in Kashmir and in the north-eastern States, including Manipur, where separatists rebels are present. In particular, the AFSPA empowers soldiers to arrest, keep in detention, and shoot at any person so as to "maintain public order" if the soldier has reasons to believe that such person is an "insurgent" (Section 4.a) . These actions can be carried out with total impunity, as the law requires the permission from the central Government to prosecute a member of the army.
 
Ms. Sharmila was arrested for the first time in November 2000 for "attempting suicide", which is unlawful under Section 309 of the Indian Penal Code, and has refused to eat or drink since then. Over the past 14 years, the Indian authorities have regularly imposed forced nasal feeding on Ms. Sharmila.
 
According to the Indian Penal Code, the maximum sentence for the charge of "attempting suicide" is one year in detention. Ms. Sharmila has thus been released from detention every year, and has been subsequently re-arrested shortly afterwards again for the same reasons.
 
Actions requested:
 
Please write to the authorities in India, urging them to:
 
i.      Guarantee in all circumstances the physical and psychological integrity of Ms. Irom Sharmila Chanu as well as of all human rights defenders in India;

ii.     Release Ms. Irom Sharmila Chanu immediately and unconditionally, since her detention is arbitrary as it only aims at sanctioning her human rights activities;

iii.   Put an end to all acts of harassment - including at the judicial level - against Ms. Irom Sharmila Chanu as well as against all human rights defenders in India so that they are able to carry out their work without hindrances;

iv.    Conform with the provisions of the UN Declaration on Human Rights Defenders, adopted by the General Assembly of the United Nations on December 9, 1998, especially:

-        Article 1, which states that "everyone has the right, individually and in association with others, to promote and to strive for the protection and realisation of human rights and fundamental freedoms at the national and international levels"
-        Article 12.2, which provides that ""the State shall take all necessary measures to ensure the protection by the competent authorities of everyone, individually and in association with others, against any violence, threats, retaliation, de facto or de jure adverse discrimination, pressure or any other arbitrary action as a consequence of his or her legitimate exercise of the rights referred to in the present Declaration";
 
v.    More generally, ensure in all circumstances the respect for human rights and fundamental freedoms in accordance with in accordance with the Universal Declaration of Human Rights and with international and regional human rights instruments ratified by India.

Addresses:
 
·       Mr. Shri Nanredra Damodardas Modi, Prime Minister of India, Prime Minister's Office, Room number 152, South Block, New Delhi, India. Fax: + 91 11 2301 6857. E-mail: pmosb@pmo.nic.in / manmo@sansad.in
·       Mr. Raj Nath Singh, Union Minister of Home Affairs, Ministry of Home Affairs, 104-107 North Block, New Delhi 110 001 India, Fax: +91 11 2309 2979
·       Justice Rajendra Mal Lodha, Chief Justice of India, Supreme Court, Tilak Marg, New Delhi -1, India. Fax: +91 11 233 83792, Email: supremecourt@nic.in
·       Justice K. G. Balakrishnan, Chairperson of the National Human Rights Commission of India, Manav Adhikar Bhawan Block-C, GPO Complex, INA, New Delhi - 110023, India. Fax +91 11 2465 1329. Email: covdnhrc@nic.in; ionhrc@nic.in
·       Mr. A. K. Parashar, Focal Point on Human Rights Defenders, National Human Rights Commission, Faridkot House, Copernicus Marg, New Delhi 110 001, India. Email: hrd-nhrc@nic.in
·       Shri. Okram Ibobi Singh, Chief Minister of Manipur, Chief Minister's Secretariat, Babupara, Imphal, 795001, Manipur, India. Fax: +91 385 2451817 / +91 385 2451817, Email: cmmani@hub.nic.in
·       Governor of Manipur, Raj Bhavan Imphal 795001, Manipur INDIA. Fax: + 91 385 2450278.
·       Mr. Shri P.C. Lawmkunga, Chief Secretary, Govt. of Manipur, Secretariate, Imphal, Manipur. Fax: 0385-2452629, E-mail: cs-manipur@nic.in
·       Mr. Shri Shahid Ahmad, Director General of Police, Police Headquarters, Imphal – 795001. Manipur. E-mail: dgp-mnp@nic.in
·       Manipur State Human Rights Commission, Courts Complex, Lamphelpat, Imphal – 795 004. E-mail: mhrc@man.nic.in
·       H.E. Mr. Dilip Sinha, Ambassador, Permanent Mission of India to the United Nations (Geneva), Rue du Valais 9, 1202 Geneva, Switzerland. Fax: +41 22 906 86 96, Email: mission.india@ties.itu.int
·       Embassy of India in Brussels, 217 Chaussée de Vleurgat, 1050 Brussels, Belgium, Fax: +32 2 6489638 / +32 2 6451869


 
Please also write to the diplomatic mission or embassy of India in your respective country.